I journeyed Christmas with the usual hubbub of some preparations and finished 2007 without much of a significant bang. If there was any, it would be highlighted with the courses I took from April-September to hone my skill, taking the whole catalogue of US based nursing or clinical skills at an institution in Manila. This is something for me to be pleased and thankful for. Mental stimulation has always been a passion I thrive at, one thing I would never tire being feverish about.



Some of my favorite course programs I immensely enjoyed. I took the whole package of course programs available as they are really "a must" in US based clinical skills. Well, I must say that it has been a most satisfying decision. And for those of you who are in the same field as mine, CLICK this link. I guarantee you, the courses are well worth your money and are just great!

The nursing techniques as practiced in modern methods and
apparatus along with the rationale behind certain procedures
and as to when and why they must be employed has been a
cerebral satiety to me.
I am still waiting though to t
ake


and hopefully pass an exam which is slated sometime March
this year. Sigh. I still have to brush up.
Where have I been? Life is indeed moving fast. And yet strangely sometimes, it feels sooo slow . I can be quite impatient knowing that I have exerted a considerable amount of my utter best . Processing time of local agencies tied up with US based hospitals can take eons and sometimes, you just feel it isn't an ally to the expected velocity where you should zoom. Lots of time I would also wonder if God has other plans for what and where I should be all this time since that fateful year of 2003 in August when I experienced a business fiasco (courtesy of a "friend") that I was handling . I have mentioned in one of my entries that God has a messianic message to me of learning patience and I would have to admit, it is still His message for me -to hold on, be proactive and exert more effort and believe, that indeed, I am bound to propulsion in His own time.

I would like to think that I am a positive harbinger of good vibes to myself and others. I'd rather dwell on what I can do and focus on the goal than see the hindrances. I do see the whole picture most times and I take a mental note of the stumbling blocks. These are but natural to any given situation. Ergo, UNBLOCK! This perspective usually works for me and I am intent on making it work again. Nevertheless, there would also be times of tiny doubts of faith, but possessing an unwavering zest to accomplish what I intend to do, I bounce back.
THE YEAR THAT WAS

Got to ponder...hmm...the reasons
for existence, right and wrong , cultural differences -which has always enamored me, emotional setbacks , challenges and new beginnings, the love/s (?) of my life ,
ha-ha
, being back to top shape, my needs and wants, my past very comfortable easy life .
I don't remember putting up Christmas decorations, not even the Christmas tree for last year. There were about five or more Christmas decorations still adorning our home, three outside and at least two inside the home. I guess the flurry of church activities has made mom decide not to go too Christmassy last year. Nevertheless, there was still a tinge of Christmas flavor set at home. The long Rosewood table, I covered with a Christmas table cloth to induce a yuletide spirit, along with the mix of celadon accessories pervading in our home surely added help to capture the Christmassy feeling.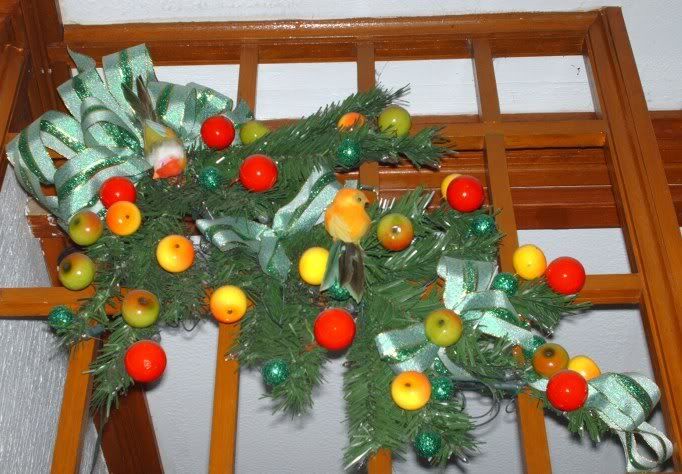 A bouquet of Christmas bough detailed with 2 little birds perched comfortably on

separate

branches. This yuletide ornament installed during the Christmas season of 2006 still adds vibrancy to our home.


With all things hoped to turn out right, each day is a challenge to be met with renewed strength and bright expectations.


Here's to the beginning of a new year - May today start with a kick from which good things spring forth.
Proost!